A change in hormone levels during perimenopause, menopause and postmenopause have a significant effect on oral health.
This is because the stages of menopause are a result of a decrease in estrogen and progesterone levels. Progesterone is a bone metabolizing hormone, and estrogen is crucial to bone reabsorption. Also, estrogen is important for establishing equilibrium inside the oral tissues, mucosa, gingiva, and salivary because it binds to the receptors. This is why low estrogen levels can cause oral tissues to thin. Which, alongside inflammation of the gums, makes it difficult to fit oral prostheses comfortably and successfully. Furthermore, among the list of oral complications caused by menopause are xerostomia, periodontitis, osteoporosis, oral mucosal disorders, and trigeminal neuralgia.
"Xerostomia is the most common oral symptom reported in menopausal women affecting saliva production in parotid submandibular sublingual and minor salivary glands…Dental caries, mucositis, infections, pain, altered taste, oral malodor, and ­dysphagia are higher in menopausal women experiencing oral dryness," says Dimensions of Dental Hygiene.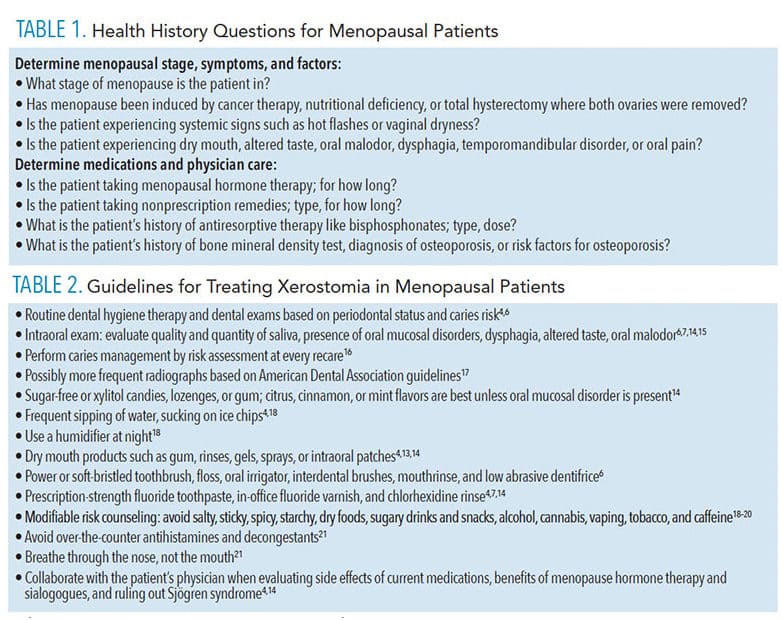 We know that perimenopause begins between the ages of thirty-five to forty-five for most women. So, if you have a patient experiencing dry mouth or any of the complications above, menopause should be considered during your clinical examination. Here is a helpful list of medical history questions for potential menopausal patients.
In conclusion, preventative oral health whilst treating a patient experiencing menopause is one more example of why Minimum Intervention Dentistry is the dentistry of the informed future. Communication between a team of therapists and dentists is crucial for patient care.
On a personal note, I am a forty-five-year-old woman who has begun perimenopause. And, I plan to ride it out as naturally as possible. Because, there are many holistic options available if that's your chosen path. For example, exercise, weight lifting, sea swimming, and natural progesterone creams.
For example, and I have no affiliation with this natural progesterone company, Wellsprings Serenity, is the cream I use and swear by. Please note, you are responsible for your own due diligence regarding this product.
However, the trouble is that many natural pathways aren't ideal for an oral microbiota already compromised by menopause. Dr. Heff's is the proven solution to improved oral health! 
I know this is our product baby, but I write these blogs because I use Dr. Heff's daily; they genuinely work, and I want to spread the word. It's hard enough to cope with menopause!
We want to give you some dry mouth relief. Please forward to anyone you think might benefit from this; thank you.
10% off subscriptions, and we're here to answer your questions at info@drheffs.com.
I hope this finds you well,
Mrs. Heff